Buckhead Facial Plastic Surgery: Theresa M. Jarmuz, MD
1218 W Paces Ferry Rd NW Unit 108
Atlanta, GA 30327
Phone: (404) 233-3937
Monday-Thursday: 9 a.m.–5 p.m.
Friday: 9 a.m.–1 p.m.

BOTOX® Cosmetic, Dysport® & XEOMIN®
BOTOX® Cosmetic, Dysport® & XEOMIN®
Active women and men from Atlanta, Smryna, and Vinings who want their appearance to reflect how they feel inside have made injectable treatments overwhelmingly popular at our practice. BOTOX, Dysport, and XEOMIN are safe, effective, and quick wrinkle relaxers that produce reliable results when performed by a skilled injector. Dr. Theresa M. Jarmuz is an experienced facial plastic surgeon who believes nonsurgical treatments are an excellent way to manage the early signs of aging.
How Does BOTOX Work?
Classified as neurotoxins, BOTOX Cosmetic, Dysport, and XEOMIN are often called wrinkle relaxers because they treat dynamic wrinkles caused by the repeated contractions of facial muscles. These products share the same active ingredient, botulinum toxin type A, which temporarily prevents treated facial muscles from contracting allowing wrinkles in the overlying skin to gradually smooth away.
What Areas Can Neurotoxins Like BOTOX Treat?
While BOTOX, Dysport, and XEOMIN are best known for softening wrinkles around the eyes and brow, these products actually are good options for treating other concerns as well (see illustration).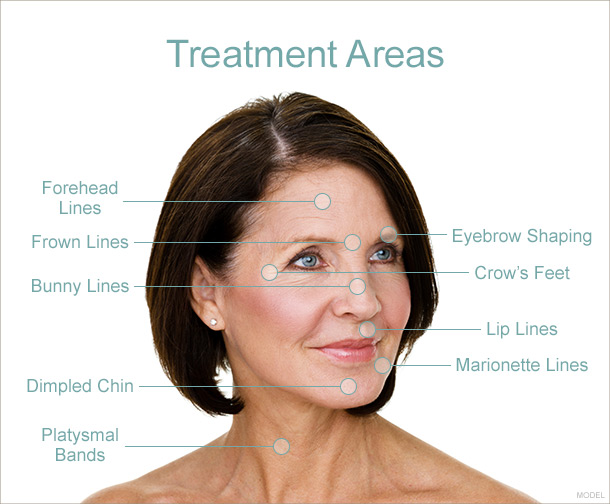 Dr. Jarmuz can treat multiple areas in a single session that's customized to your precise goals.
Masseter Reduction & Facial Slimming With BOTOX
Some Atlanta patients have prominent or overdeveloped jaw muscles–called masseters–that cause fullness in the lower face or a square-looking jaw. By injecting BOTOX into these muscles, we can cause them to relax, which slims the lower face, creating what's sometimes referred to as a "V-line" face shape. This procedure enhances the contours of the lower face, highlighting the cheeks and chin. Dr. Jarmuz will work with you to determine if you are a good candidate for jawline slimming with BOTOX or another neuromodulator.
Is BOTOX Better Than Dysport or XEOMIN?
Dr. Jarmuz helps determine during your consultation whether BOTOX Cosmetic, Dysport, or XEOMIN is the best option for your specific needs. The products are very similar. BOTOX is probably the most well-known cosmetic product in the world, and its popularity stems from how effectively it can diminish dynamic wrinkles. Dysport and XEOMIN, though less well known, are equally effective.
All 3 products are FDA approved. The primary differences between them are:
Results following Dysport and XEOMIN treatments typically appear about a day or 2 earlier than for those from BOTOX.
Dysport and XEOMIN are injected deeper into the skin than BOTOX.
Dysport and XEOMIN spread farther from where they are injected than BOTOX.
Dr. Jarmuz can evaluate your face, listen to your goals, and recommend the product that is best for you.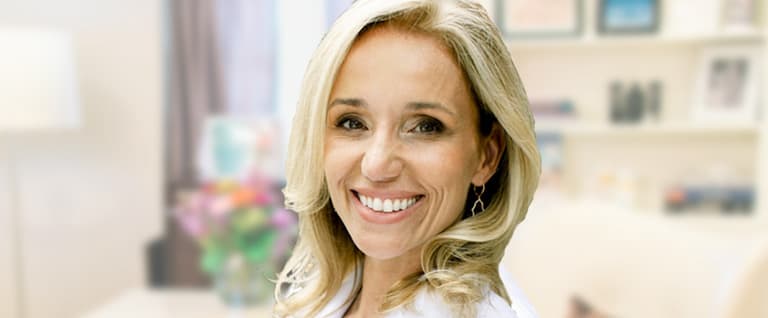 Theresa M. Jarmuz, M.D.
Double Board-Certified Facial Plastic Surgeon
Dr. Jarmuz customizes treatments to help women and men achieve their aesthetic goals, offering modern techniques for both surgical and nonsurgical procedures.
Your Neurotoxin Procedure
A treatment with these injectables can take as little as 10 minutes. First, we apply a topical anesthetic to the skin to numb the area, and then your injector uses a very fine needle to inject a tiny amount of BOTOX, Dysport, or XEOMIN into the muscles that contract and cause dynamic wrinkles.
How Long Does It Take BOTOX to Work?
Neurotoxins basically take a few days to produce results. This timeframe varies between products and is generally as early as:
Dysport: 2 to 3 days
XEOMIN: 3 to 4 days
BOTOX: 3 to 5 days
Which Lasts Longer BOTOX, XEOMIN, or Dysport?
The duration of neurotoxin results varies between products and with individual factors. In general:
Dysport: may last up to 5 months
BOTOX: lasts up to 4 months
XEOMIN: lasts up to 3 months
When your lines begin to return, you can repeat the treatment for continued improvement. Many patients return for regular maintenance treatments for a consistently refreshed look.
An Emphasis on Natural-Looking BOTOX Results
Dr. Jarmuz believes cosmetic procedures are only truly successful when they aren't obvious. When it comes to BOTOX, Dysport, and XEOMIN treatments, patients are sometimes concerned that their results will look unnatural or "frozen." You can rest assured that is not the case for our patients. We take a conservative approach, using small doses of these products to ensure that your face moves easily and naturally — just with fewer wrinkles.
Treatments for Men
More men are getting injectable treatments than ever before. Social media and the desire to look younger in a competitive work environment are motivating men to seek nonsurgical cosmetic treatments such as BOTOX, Dysport, and XEOMIN. Dr. Jarmuz's team can perform these discreet treatments during a lunch hour; no downtime is needed. We can maintain your masculine facial contours while making you look younger and more alert.
Surgical & Nonsurgical Alternatives
In some cases, these injections may not be the best option if you are seeking results that last longer or are more extensive. Dr. Jarmuz offers several anti-aging procedures that may be right for you, including:
Additionally, there are other nonsurgical treatments that can be used on their own or combined with BOTOX, Dysport, or XEOMIN for a comprehensive nonsurgical facial rejuvenation. Some of the options include:
Whatever your goals are, Dr. Jarmuz can use her experience and skill to create a customized plan just for you.
Frequently Asked Questions
What are the main differences between BOTOX, Dysport, and XEOMIN?
Although BOTOX Cosmetic, Dysport, and XEOMIN work in the same fashion, they are a bit different from each other. Many of these differences are fairly technical and don't mean much to the average person. For example, Dysport has a different consistency than BOTOX Cosmetic. It's important to remember that each patient is different, and Dr. Jarmuz can help you better understand which product (or combination of products) is best for you during your consultation.
What is the difference between neurotoxins like BOTOX and dermal fillers?
BOTOX, Dysport, and XEOMIN are wrinkle relaxers used to treat wrinkles that form from repeated facial movement. Dermal fillers are different from these products because, just as their name implies, they physically fill in wrinkles using special gels. This makes injectable fillers especially useful on deeper lines, such as nasolabial folds. We often perform wrinkle relaxer and dermal filler injections together for a comprehensive rejuvenation.
Can you tell if someone gets BOTOX?
No. When performed by a trained medical professional, such as the injectors at our office, BOTOX, Dysport, and XEOMIN yield results that are subtle and natural-looking. Your friends and family may comment that you look well-rested, refreshed, or simply better — but they likely won't know you've had injections unless you tell them.
Dr. Jarmuz and her team offer a variety of surgical and minimally invasive facial cosmetic procedures in Atlanta. If you're considering anti-aging treatments such as BOTOX, XEOMIN, or Dysport, book now online to meet with Dr. Jarmuz or call Buckhead Facial Plastic Surgery at (404) 233-3937 to schedule an appointment.