Buckhead Facial Plastic Surgery: Theresa M. Jarmuz, MD
1218 W Paces Ferry Rd NW Unit 108
Atlanta, GA 30327
Phone: (404) 233-3937
Monday-Thursday: 9 a.m.–5 p.m.
Friday: 9 a.m.–1 p.m.

Dermal Fillers
Dr. Theresa Jarmuz believes in doing everything she can for her patients, and for herself, without surgery. For this reason, she has made the use of JUVÉDERM®, Restylane®, and other dermal and lip fillers a major part of her Atlanta practice serving Buckhead, Vinings, Smyrna, and Brookhaven. Collagen, a naturally occurring substance that supports the skin and keeps it looking healthy, breaks down over time, causing facial wrinkling and hollowness. To replace lost collagen and even help the body replace its own natural collagen, injectable fillers can be used for a wide variety of purposes, from plumping lips to reducing wrinkles.
Dermal Filler Options
Dr. Jarmuz offers a variety of dermal fillers each formulated for specific improvements. Options include:
Restylane®
Made with hyaluronic acid, a substance produced naturally by your skin to add volume and moisture, Restylane can reduce wrinkles and add volume to facial features such as lips and cheeks. The results typically last between 2 to 9 months. Learn more about Restylane.
JUVÉDERM® Injectable Gel
Also made with hyaluronic acid, this smooth-consistency gel provides a very natural-looking result that lasts up to 1 year. JUVÉDERM is particularly effective at reducing the visibility of nasolabial folds, also referred to as "smile lines" or "parentheses." JUVÉDERM XC provides volume enhancement (for wrinkles and lips) without the "ouch," thanks to the addition of lidocaine. Learn more about JUVÉDERM.
JUVÉDERM VOLUMA® XC
VOLUMA was the first filler FDA approved to instantly add volume to the cheek area. It gives you a subtle lift, helping to restore contour and a more youthful profile, for up to 2 years, in patients over the age of 21. You should be able to resume your normal activities after 24 hours.
RHA® Collection
These fillers contain a patented resilient hyaluronic acid (RHA) formulated to ensure the face looks expressive and natural wherever it is used. Learn more about RHA fillers.
Sculptra® Aesthetic
Dr. Jarmuz is a National Trainer for Sculptra Aesthetic and is the #1 injector in Georgia. This injectable treatment is made with poly-L-lactic acid, a substance that actually stimulates collagen growth to minimize the visibility of smile lines, wrinkles on the sides of your mouth (marionette lines), and chin wrinkles. Sculptra Aesthetic works gradually after several injection sessions and can last up to 2 years, longer than most injectable treatments. Learn more about Sculptra Aesthetic.
RADIESSE®
RADIESSE, composed of calcium hydroxylapatite (CaHA) microspheres, is useful for filling deeper folds in the face and also for giving structure and volume to those areas that have been depleted. In addition, we can also use it to rejuvenate the back of the hands where aging skin may have been neglected in the past. RADIESSE has been shown to last at least a year and contributes to increased collagen within the deeper layers of the skin, allowing for long-lasting and natural results.
BELOTERO BALANCE®
BELOTERO is thinner than similar than other hyaluronic acid fillers and is especially useful for treating the thin, delicate lines that develop above and around the lips. The results can last for up to 6 months, depending on the treatment area, as well as other factors.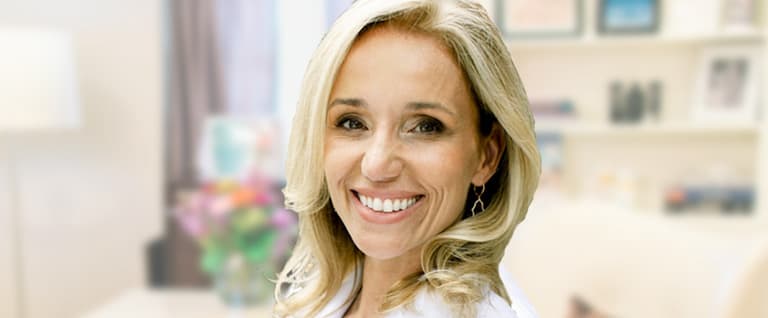 Theresa M. Jarmuz, M.D.
Double Board-Certified Facial Plastic Surgeon
Dr. Jarmuz customizes treatments to help women and men achieve their aesthetic goals, offering modern techniques for both surgical and nonsurgical procedures.
What Are Dermal Filler Treatments Like?
Dermal filler treatments are virtually painless and are performed right in our office. Dr. Jarmuz is one of the few facial plastic surgeons in the Atlanta area who uses a blunt-tip micro-cannula instead of a sharp needle during certain injectable procedures. Using a micro-cannula requires specialized training and helps limit the bruising and swelling that sometimes accompanies filler injections. It is especially useful when treating the areas under the eyes, called tear troughs, where Dr. Jarmuz can make a single injection rather than several.
After your injections, you may return to your normal activities right away and, with the exception of Sculptra Aesthetic, see results immediately. Occasionally, men and women will experience some swelling or bruising after their injection, but these will fade quickly.
Surgical & Nonsurgical Alternatives
In addition to dermal fillers, Dr. Jarmuz offers other nonsurgical procedures for the treatment of wrinkles, including: chemical peels, laser skin resurfacing and BOTOX® Cosmetic
For more dramatic and longer-lasting results, Dr. Jarmuz performs surgical procedures such as brow lift, eyelid surgery, neck lift, and facelift for her Atlanta patients.
Dr. Theresa M. Jarmuz is a double board-certified facial plastic surgeon offering a variety of surgical and non-invasive facial cosmetic procedures. To learn more about dermal fillers for facial rejuvenation and lip augmentation in Atlanta, book now with Dr. Jarmuz online or call her office at (404) 233-3937.
A Reputation Built on Results
Great and very professional!!!!!
Friendly, professional and dedicated staff
If you have any issues with veins on your face, this is the place to go.
Visiting Dr. Jarmuz is like visiting a dear friend. She is in an incredible doctor and human being....