Buckhead Facial Plastic Surgery: Theresa M. Jarmuz, MD
1218 W Paces Ferry Rd NW Unit 108
Atlanta, GA 30327
Phone: (404) 233-3937
Monday-Thursday: 9 a.m.–5 p.m.
Friday: 9 a.m.–1 p.m.

JUVÉDERM®
At our Atlanta practice, the JUVÉDERM family of injectable fillers is among the most versatile and popular of our nonsurgical treatments. JUVÉDERM fillers are known for their smooth consistency and versatile anti-aging benefits. The FDA-approved injectable is an excellent treatment for fine lines and wrinkles, making thin lips more sensuous, and fading the deep "smile lines" around the mouth.
Dr. Theresa Jarmuz is a double board-certified facial plastic surgeon whose experience with injectable fillers such as JUVÉDERM makes her one of the Southeast's leading facial rejuvenation specialists. Book now to discuss your aesthetic concerns with Dr. Jarmuz by using our online form, or call Buckhead Facial Plastic Surgery at (404) 233-3937 to schedule an appointment.
View Before & After Photos
Who Is a Good Candidate for JUVÉDERM?
Women and men concerned about fine lines and wrinkles, the loss of volume in the lips and midface, and other early signs of facial aging can benefit from JUVÉDERM injections. Most of the patients considering fillers at our practice aren't ready for surgical rejuvenation, such as a facelift. Their skin retains most of its elasticity and there is little sagging of the underlying muscle and tissue. Dr. Jarmuz's JUVÉDERM patients range in age from 20 to 80, but the majority are in their 30s to 50s. The most common goal among candidates is the desire to regain a more youthful appearance through a convenient, nonsurgical approach.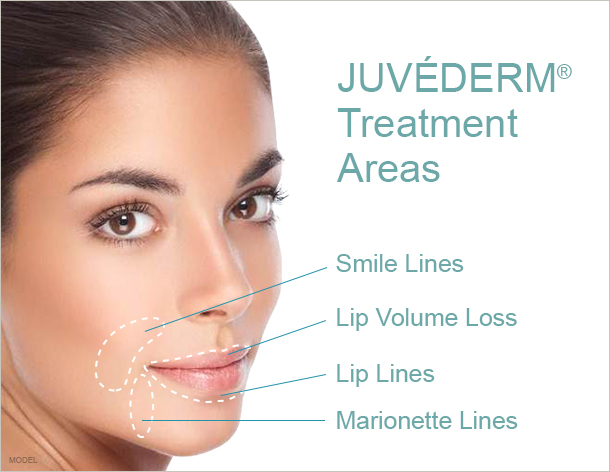 JUVÉDERM fillers have an impressive track record of minimizing the signs of aging in various areas of the face (see illustration). Originally approved by the FDA specifically to treat nasolabial folds (sometimes called "smile lines" or "parentheses"), JUVÉDERM gets great results when injected to add volume to the lips and erase other fine lines and wrinkles around the midface. If you have any of these concerns, you may be a good candidate.
Can JUVÉDERM Be Used as an Under-Eye Filler?
Yes, fillers can be used under the eyes to correct orbital hollowing by restoring volume to the tear trough. It's important to choose an experienced injector such as Dr. Jarmuz when treating this sensitive and delicate area.
Your JUVÉDERM Treatment
Dr. Jarmuz tailors each JUVÉDERM treatment to your specific concerns. She is one of the few facial plastic surgeons in the Atlanta area who often uses a micro-cannula instead of a needle to inject cosmetic fillers. The cannula technique significantly reduces post-treatment bruising and swelling and enhances comfort during the injections.
JUVÉDERM, like many other fillers, is a hyaluronic acid (HA) filler. HA is a type of sugar found naturally in the body, so pre-treatment allergy testing isn't needed. Most fillers these days come pre-mixed with lidocaine, a local anesthetic that helps keep you comfortable during the injections. Topical anesthetics are always used to ensure patients have relatively painless procedures.
Dr. Jarmuz and her team first cleanse the area you want to target and then complete the brief injections. The whole process lasts just a few minutes, and you can return to your regular activities immediately afterward. You may see some swelling and redness, but these signs are mild and temporary thanks to Dr. Jarmuz's careful techniques.
Can JUVÉDERM Be Combined With Other Nonsurgical Procedures?
Dr. Jarmuz often customizes nonsurgical anti-aging treatments by combining procedures and fillers as part of a comprehensive approach to facial rejuvenation. She may recommend any of the following treatments in addition to JUVÉDERM injections:
JUVÉDERM VOLUMA® XC: This is the first filler approved by the FDA to add volume to the cheek area. It is injected deeper into the skin than other fillers and lasts up to 2 years. As another product in the JUVÉDERM family, it is similar in composition, but its denser formulation is designed specifically for boosting cheek volume.
BOTOX® Cosmetic, Dysport® & XEOMIN®: Unlike fillers, these injectable treatments minimize wrinkles by relaxing the facial muscles that constantly contract throughout the day as our faces change expression. They are excellent when used to soften forehead wrinkles and crow's feet.
HydraFacial®: This is a no-downtime procedure that cleanses, exfoliates, and hydrates the skin. It's gentler than laser skin resurfacing, making it a good companion treatment with fillers.
Theresa M. Jarmuz, M.D.
Double Board-Certified Facial Plastic Surgeon
Dr. Jarmuz customizes treatments to help women and men achieve their aesthetic goals, offering modern techniques for both surgical and nonsurgical procedures.
Frequently Asked Questions
How long do JUVÉDERM results last?
The results of JUVÉDERM injections typically last up to 12 months, while results following injections of some other fillers wear off after about 6 to 9 months. Dr. Jarmuz recommends returning for touch-up treatments to maintain the results of fillers in a seamless manner.
What does JUVÉDERM cost?
The cost depends on what specific JUVÉDERM filler is used, how many areas of the face are treated, and your condition. Dr. Jarmuz believes that you shouldn't have to pay for a full syringe of filler if it's not needed to achieve your cosmetic goals. She works closely with patients to develop treatment plans and budgets that match their needs.
Will I see immediate results from JUVÉDERM?
Yes, JUVÉDERM and other fillers produce noticeable results immediately after the treatment. The final results, though, emerge a bit more gradually as any swelling resolves. One of the main reasons Dr. Jarmuz injects JUVÉDERM using a cannula is to limit visible effects associated with needle injections.