We are all constantly reminded of how important it is to protect our skin from the sun's harmful rays during the spring and summer – but here at Buckhead Facial we like to stress sun protection all year round. Even though it's fall, the sun is still shining, which means our skin is still exposed. For maximum protection as the weather changes we suggest using the following products: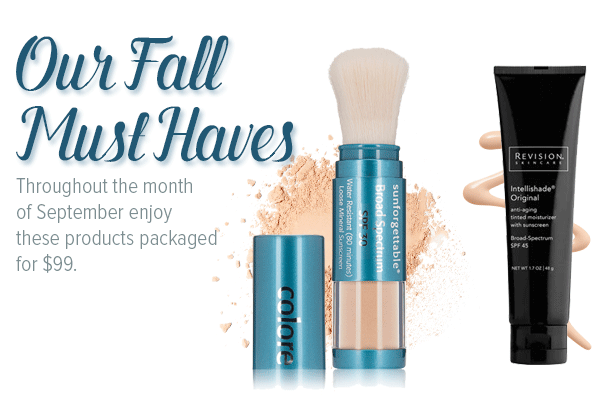 Colorescience® Sunforgettable® Mineral Sunscreen Brush – The mineral powder in this easy-to-apply brush provides everyday broad spectrum UVA/UVB protection.
Revision® Intellishade® Original – This tinted moisturizer gives skin color while providing broad spectrum UVA/UVB protection. It also works against premature aging by fighting photodamage.
These everyday products work great together – apply the Intellishade moisturizer in the morning and touch up with the sunforgettable brush throughout the day. We will be offering both products for $99 through September, 30, 2016.
With the kids back in school and the holidays coming up, now is the perfect time to focus on YOU! Our suggestion? CoolSculpting. This non-surgical treatment helps to show off a slimmer figure with no downtime and natural-looking results.
How does it work? CoolSculpting uses controlled cooling to freeze fat cells under the skin. Once these fat cells are crystallized they die, and eventally your body will eliminate them altogether. Once the cells are gone, they're gone for good.